Today was the unveiling of the much anticipated tablet of all. The Apple iPad. I lot of people have been disappointed coz it's not what they expect. A gigantic iPhone/iPod touch. Well, they are not gonna be disappointed if they did not expect too much. I am fine with it. I like screen real estates. I loved the Iphone. I did a lot of things with it. I will like the iPad more since it's bigger. Price point is not so bad.
Now, I talk to a lot of people on the blogosphere and here are their comments.
iPad fail coz...
4:3 aspect ratio
no multitasking
no webcam for video calls
it's basically a big iPhone
What's the point of having an iPad.
My tablet PC can do a lot more
blah blah blah.
First of all, they use 4:3 aspect ratio to make use of the existing 140K apps. I like the Idea. We don't need to wait for the Apps to be developed. The Apps are already there and most of us have it ready on our itunes. When Palm pre was released, it has 12 Apps on their App store which hurt the sales of the phone a lot. now they have 1000 app. Are You kidding me? LOL
No multitasking.
The jailbroken iPhone and iPod touch have a third party multi tasking apps. Since iPad is using the same Apps, it will most likely work on the iPad too. So if iPhone users survived it, iPad users will.
No webcam.
iPhone and iPod touch does not have one either. yet, users are fine with it. If your into Skype or Video calling guys, too bad, Apple forgot about you.
What's the point of having an iPad?
Well, what's the point of having a kindle? Millions and millions are sold. iPad made it better. Does kindle failed?
A lot of people was so excited when the crunchpad was announced. Chunchpad only does 1 thing. It's not mobile even. A lot more got disappointed on it's demise. It then became joojoo. From the price standpoint for a device that does only one thing, it's too expensive. iPad have it's capability plus so much more. So why does iPad fail now?
The best games are played on the biggest screen. Some complain about thier handheld gaming device needs to have a bigger screen. Now Apple gave them iPad, haters said,"FAIL!" LOL.
Some haters even say, why do U need accelerometer on the iPAd. It's useless. I said, How do U control games on Your phone? Dpad? LOL. Welcome to the stone age.
Plus the GPS,MultiTouch, compass as a bonus, How can U say iPad failed?
Their tablet PC can do a lot more. Cmon man. Ur comparing a full OS against a Mobile OS. If You want a tablet PC comparable Apple product. Look for Axiotron Modbook pro. It has 15.4" display and run a full MAc OSX. then tell me if Your tablet PC can do better.
iPAd is more of a Android/Wince/WM6.5 MID level. it should be comapared to those. Now tell me, What MID that runs mobile OS is better?
Oh wait! Yeah... this one!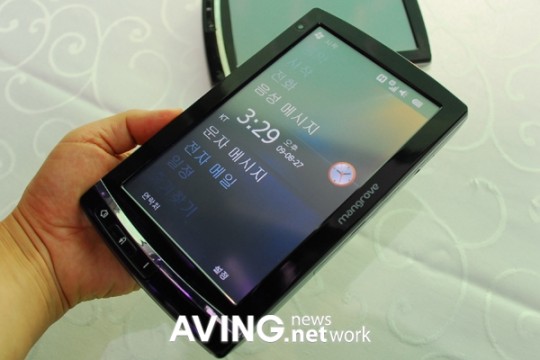 Would anyone be interested with this? ...
Those are just few things in my head. I know that iPad is not the ultimate tablet. But it will do what it have like no other device can.I'll be getting one for sure. Game on!